Welcome to the Holy Spirit Seminar — Twenty In-Depth Lessons on the Holy Spirit. Who He Is, What He Does, and Why You Should Care. This seminar is offered to you absolutely free, with no cost or obligation whatsoever. Please feel free to add comments and to share on Social Media.
<— Click on the Cover to Open and Print Out Your Student Guide. You will need it for taking notes.
Just Click on the Videos Below. We suggest you watch them in order.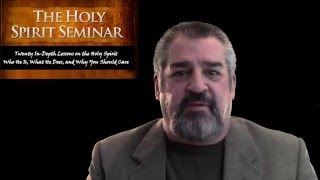 Introduction to the Holy Spirit Seminar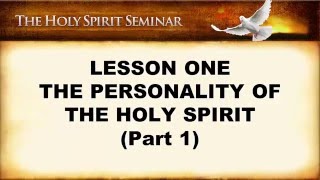 Lesson 1: The Personality of the Holy Spirit (Part 1)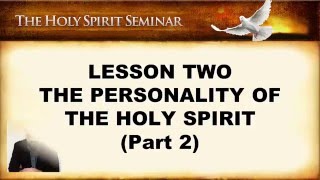 Lesson 2: The Personality of the Holy Spirit (Part 2)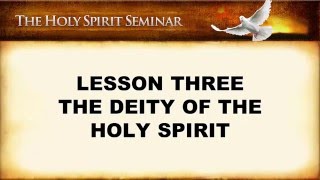 Lesson 3: The Deity of the Holy Spirit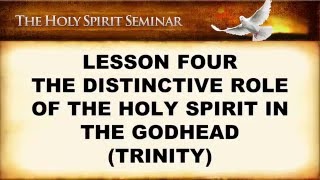 Lesson 4: The Distinctive Role of the Holy Spirit in the Godhead (Trinity)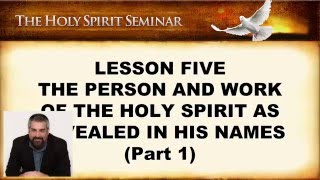 Lesson 5: The Person and Work of the Holy Spirit as Revealed in His Names (Part 1)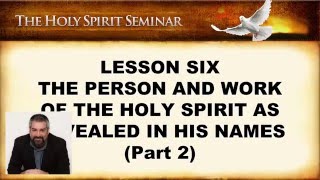 Lesson 6: The Person and Work of the Holy Spirit as Revealed in His Names (Part 2)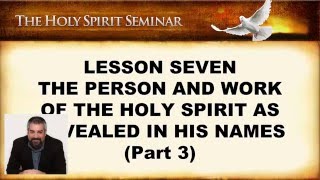 Lesson 7: The Person and Work of the Holy Spirit as Revealed in His Names (Part 3)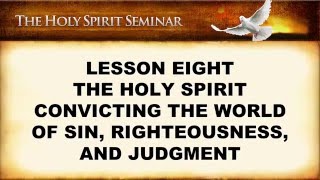 Lesson 8: The Holy Spirit Convicting the World of Sin, Righteousness, and Judgment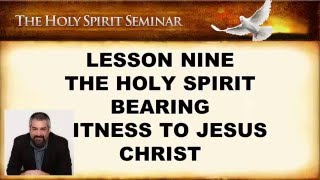 Lesson 9: The Holy Spirit Bearing Witness to Jesus Christ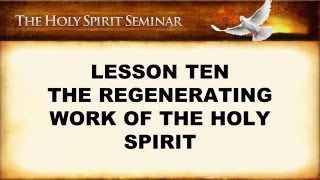 Lesson 10: The Regenerating Work of the Holy Spirit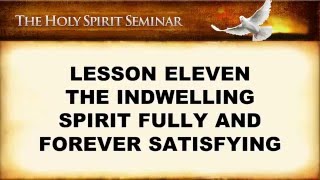 Lesson 11: The Indwelling Spirit Fully and Forever Satisfying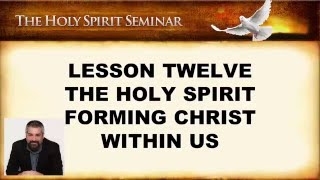 Lesson 12: The Holy Spirit Forming Christ Within Us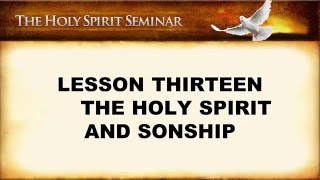 Lesson 13: The Holy Spirit and Sonship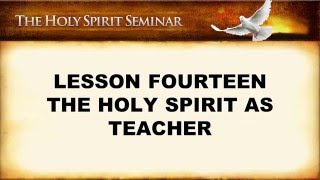 Lesson 14: The Holy Spirit as Teacher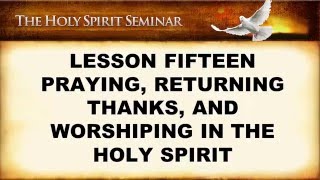 Lesson 15: Praying, Returning Thanks, and Worshiping in the Holy Spirit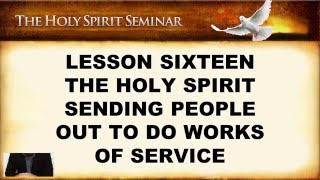 Lesson 16: The Holy Spirit Sending People Out to do Works of Service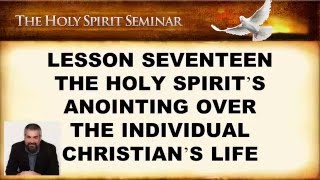 Lesson 17: The Holy Spirit's Anointing Over the Individual Christian's Life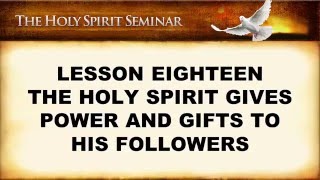 Lesson 18: The Holy Spirit Gives Power and Gifts to His Followers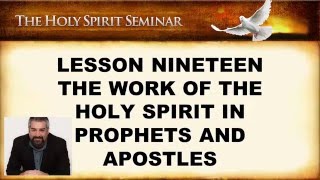 Lesson 19: The Work of the Holy Spirit in Prophets and Apostles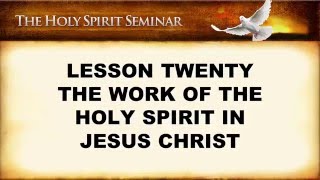 Lesson 20: The Work of the Holy Spirit in Jesus Christ
Introduction to the Holy Spirit Seminar

This is an Introduction to the 20-Session Holy Spirit Seminar by Dr. Barry L. Davis. By the end of this course you will have more useful knowledge of the Holy Spirit than most people alive today, including, but not limited to, the vast majority of dedicated church members and pastors.

Interested in the Paperback or Kindle versions
of this Seminar? Just click the Book Cover Below

Lesson 1: The Personality of the Holy Spirit (Part 1)

Have you ever considered that the Bible presents the Holy Spirit as a Person? What does that mean? Is He like us? Learn all about it in this lesson.

You Can Teach This Seminar -- Click Here for More Info

Lesson 2: The Personality of the Holy Spirit (Part 2)

Lesson 3: The Deity of the Holy Spirit

Is the Holy Spirit God? What is His role in the Godhead? What does the word "Deity" mean? Learn this and more in this lesson in the Holy Spirit Seminar.

You Can Teach This Seminar -- Click Here for More Info

Lesson 4: The Distinctive Role of the Holy Spirit in the Godhead (Trinity)

Lesson 5: The Person and Work of the Holy Spirit as Revealed in His Names (Part 1)

What are the Names of the Holy Spirit in Scripture? How do those Names help us to define Him and His work in the world and in our lives? Learn the answers to these questions and more in this session of the Holy Spirit Seminar.

You Can Teach This Seminar -- Click Here for More Info

Lesson 6: The Person and Work of the Holy Spirit as Revealed in His Names (Part 2)

What are the Names of the Holy Spirit in Scripture? How do those Names help us to define Him and His work in the world and in our lives? Learn the answers to these questions and more in Part 2 of this lesson.

Interested in the Paperback or Kindle versions
of this Seminar? Just click the Book Cover Below

Lesson 7: The Person and Work of the Holy Spirit as Revealed in His Names (Part 3)

What are the Names of the Holy Spirit in Scripture? How do those Names help us to define Him and His work in the world and in our lives? Learn the answers to these questions and more in this session of the Holy Spirit Seminar.

You Can Teach This Seminar -- Click Here for More Info

Lesson 8: The Holy Spirit Convicting the World of Sin, Righteousness, and Judgment

Lesson 9: The Holy Spirit Bearing Witness to Jesus Christ

How does the Holy Spirit bear witness to Jesus Christ? What is His role in leading people to the Savior? These questions and more will be addressed and answered in this lesson in the Holy Spirit Seminar.

You Can Teach This Seminar -- Click Here for More Info

Lesson 10: The Regenerating Work of the Holy Spirit

Lesson 11: The Indwelling Spirit Fully and Forever Satisfying

What does the Holy Spirit do to bring satisfaction to our lives? We answer this and many more questions in this video from The Holy Spirit Seminar.

You Can Teach This Seminar -- Click Here for More Info

Lesson 12: The Holy Spirit Forming Christ Within Us

Lesson 13: The Holy Spirit and Sonship

What role does the Holy Spirit have to do with our adoption as children of God? Watch this lesson to find out.

You Can Teach This Seminar -- Click Here for More Info

Lesson 15: Praying, Returning Thanks, and Worshiping in the Holy Spirit

Learn what it means to pray, return thanks, and worship in the Holy Spirit in this dynamic lesson from The Holy Spirit Seminar.

You Can Teach This Seminar -- Click Here for More Info

Lesson 16: The Holy Spirit Sending People Out to do Works of Service

Lesson 17: The Holy Spirit's Anointing Over the Individual Christian's Life

How does the anointing of the Holy Spirit work? What is involved? These questions and more are answered in this lesson from The Holy Spirit Seminar.

You Can Teach This Seminar -- Click Here for More Info

Lesson 18: The Holy Spirit Gives Power and Gifts to His Followers

Lesson 19: The Work of the Holy Spirit in Prophets and Apostles

How does the Spirit specifically work in the lives of Prophets and Apostles? Find out in this lesson of the Holy Spirit Seminar.

You Can Teach This Seminar -- Click Here for More Info

Lesson 20: The Work of the Holy Spirit in Jesus Christ

When Jesus was on earth, what role did the Holy Spirit play in His life? Was Jesus dependent upon the Spirit for His miracles and other works? Find out the answers in this lesson which is a part of The Holy Spirit Seminar.

Interested in the Paperback or Kindle versions
of this Seminar? Just click the Book Cover Below